Growing up, my father used to say, "If you don't have time to do it right the first time, what makes you think you will have time to do it again?" He was an absolute perfectionist. He was also one of those people who would sit down at a restaurant and find the typo on the menu before anyone else had even picked theirs up. One of the greatest lessons I learned from my father was about quality and the impact of quality on my brand.
Today, as part of the Marvel Marketers team of superheroes, our namesake commands quality. After all, a superhero has very little room for error. I find myself being called in to save the day on campaigns where all the information we have is "something isn't working." Almost always, I find that a solid quality assurance (QA) process would have caught the problem. The difference between good and great is frequently just the simple step of slowing down and checking it twice.
With these 5 easy steps, you can keep the villains out of your marketing automation campaigns.
Make a List!
A great QA program starts with a list. Make a list of every small thing that should be checked for you to ensure that your program is perfect. Start with what you are checking. Is it an email? A nurture program? Then look at it from top to bottom.  Who is it from? What address? Does the subject grab attention and meet best practices? Has your copy been checked for spelling and grammar? Is the email responsive? Does your campaign set program statuses? Is your list pulling the correct group? Make a complete list of all the details to ensure you check everything, every time. Create checklists for each asset type and every detail, like this one: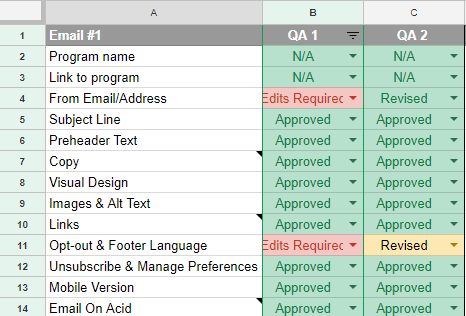 Check everything twice! (Or three or four times)
I will never forget my first day at work in my first marketing job. My new colleagues were all standing in the collateral storage room looking at piles of boxes and holding a sample of their latest marketing kit that had just been delivered. The mood was solemn, and one of them had a tear in her eye. Upon receipt of 20,000 new kits, they discovered the company name was misspelled on the first page. Somehow 2 letters were swapped, and the company brand was tarnished—on page one. Not only that, but the kits were rendered useless, and they were not inexpensive. The mistake was probably costlier than the employee who made it.
No one is perfect! Even the greatest reviewers can miss an error, especially in something they are close to. Check your own work,then have someone else check it. Never rely on yourself to be the only source of QA. Someone completely detached from the work should be the final sign-off. Not only does it increase the likelihood of producing flawless work, it also fosters a collaborative environment where everyone feels responsible for the quality of the brand.
Fix it fast!
Errors are inevitable. We all make typos, we all miss steps. Fix the problems when they are found. Don't beat yourself up, fix it and move forward. You are setting the standard for quality with a flawless process for catching errors before they leave the confines of your team.
Check it one more time—at least!
Send it back to your peers. Check it using the same list and start fresh. Don't skip over things that were previously approved. It's easy to create a new error in the process of fixing one. Check the work as if it's the first time, and have your colleagues do the same. Repeat this process until everything is flawless!
Save the day with your amazing work!
Enjoy the benefits of your personal brand and your company brand being that of quality! Face it—Superman didn't save the day by cutting corners. He saved the day by being stronger, faster, and smarter! Your brand will be stronger for the quality work your push out the door!
Did you enjoy this post? Leave a comment for our superheroes below.
Want to read more of our superhero-approved tips and best practices? Subscribe to our blog at the top of this page!