Google says: "It takes 5 years to get to know someone".
That's the first option that pops up in Google's search box when you type in "It takes 5 years to".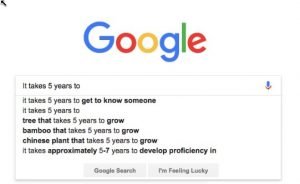 Why am I searching for such a phrase?
It is Marvel Marketers' five year anniversary (Happy Birthday to us!!), and I wanted to know what other amazing things take five years to do.  
But there's actually a more compelling a question to ask – What have I learned about Marvel Marketers in the last five years? Or more importantly, what have we come to be KNOWN for in our five years by you, our industry friends?